2018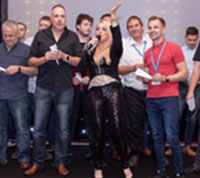 As 2018 was our 20th Anniversary year, the Open Day took a celebratory turn, particularly in the evening. The day's exhibition - our biggest yet with over 40 exhibitors, this year including new brands like Thermaltake, ECS and Patriot - and business workshops, which included product roadmaps and training for the first time, were business as usual. Workshop highlights included those from Tenda, ECS EliteGroup, West Yorkshire and Humber Cybercrime Unit as well as SEO specialist, Blue Digital who offered attendees a free website score on the day.
After a hectic day, the evening became even more energetic. We reintroduced the National IT Reseller Awards for our 20th Anniversary, with all winners judged and voted for by Target customers. The winners were announced after a three-course gala dinner, with trophies awarded by the night's compere and party-starter, Chrissie Bray. Chrissie then launched the night's events - a combination of party/ air-guitar/ dance-offs, paper aeroplane assembly and solid fun, running alongside perennial favourite, the poker table, and the chance for attendees to catch up again and meet new people. All in all, a fantastic day and evening that continued well into the next day - a very fitting 20th Anniversary celebration.
To see highlights of last year's Open Day, click here.
2017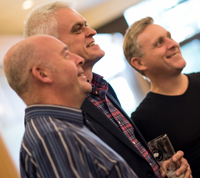 As well as the general exhibition this 2017 featured special Zones - dedicated spaces to showcase key products and services. A Gaming Zone for all the systems builders and players. A Smart Home Zone for all interested in this breaking business opportunity. And an Enterprise Zone for everyone interested in B2B IT products and services. Whoever you are there was an abundance of things to see and do.
Culminating in a packed dinner with guest speaker, The Gadget Show's Jon Bentley, the whole day proved a massive hit - and something to make bigger and better in 2018!
To see highlights of last year's Open Day, click here.
2016
The VR-tastic exhibition saw no less than three exhibitors, Gigabyte graphics and motherboards plus XFX, demonstrating the latest Virtual Reality technology, whilst E-Blue staged a multi-team contest of the new "Unreal Tournament". Biostar showcased an overclocked water-cooled PC. NightWatcher demo'd robotic CCTV. Shield were embroidering workwear while-u-wait...
Google were on hand to advise one-to-one on using Adwords, Amazon on being a merchant and using their fulfillment services. BCMS were advising on how to sell your business. St James's Place Wealth Management on pensions and investments. GfK and Context were advising on upcoming trends and what's expected 'hot' for this Christmas.
Workshops saw Amazon and Google headline our billing with talks on becoming a merchant and using Adwords, whilst ShopTalk, GfK, Context World, KitGuru and Baltic Training gave fantastic insights and ideas to benefit attendees' businesses.
To see highlights of the 2016 Open Day, click here.
2015
After a full-day's hectic programme of workshops from the likes of Google, GfK, ACAS, as well as our own all-new ShopTalk workshops, attendees were treated to a great evening that saw former World Snooker Champion, Dennis Taylor present the ShopTalk National IT Reseller Awards. And after that he gave nearly an hour's worth of hilarious anecdotes and stories from his professional career. The exhibition provided a lot of entertainment too, with attendees competing for fastest lap on Project Cars, with varying degrees of success. Alongside global superstars like Microsoft, ASRock, BullGuard, Kingston and Three a whole wall of the exhibition was devoted to new products and gadgets available at Target.
To see highlights of the 2015 Open Day, click here.
2014
After a fantastic 2013 event, we were back at The Village Hotel for the 2014 Open Day. Alongside a record number of exhibitors (24 in total!) and all-new ShopTalk workshops centering on e-commerce, attendees were also treated to a number of special events - Q & A sessions with exhibitors, the rather over-subscribed 'Magic Box' talk about the massive opportunities available with NAS in the home, training sessions on the In-Store PC Builder, Microsoft Office and Refurbisher Scheme talks, Electrical Safety & not one, but TWO Cubbages presenting the Better Retailing session. After a day of information, products, networking & playing against an e-sports pro on the Club3D stand, the evenings events culminated in the second ShopTalk National IT Reseller Awards - and there were a few suprises in store there too! Click here for the full awards video.
2013
Our fifteenth birthday and our first event at the excellent Village Hotel in Leeds. ShopTalk sessions ran throughout the day (see the videos on the 2013 Open Day site) for the first time alongside a full exhibition in the main hall. The after show party hosted the inaugural ShopTalk National IT Reseller Awards, with ten awards handed out to eight resellers on the night. The ShopTalk awards are the only awards exclusively for - and with winners voted for entirely by - independent IT resellers. It was also the only awards presentation featuring references to Sonya's singing, Tim's moaning, or Scott's acting career. Click here to see the full video of the awards presentation or here to see the 2013 post Open Day site.
2012
We'd planned to have a year off to focus on developing ShopTalk (and keeping our powder dry for our 15th birthday). The Windows 8 launch proved too good an opportunity to miss. Held off-site for the first time, we launched our very own ShopTalk training workshops with four one-hour sessions capped off with the results of our inaugural National Price Comparison. The after-show party included comedian, quiz, and casino.
To view the photo gallery for this event please click here
2011
We expanded the training theme with the introduction of business training from HMRC, Bank of England, Business Link and others, specialist exhibitions in the main hall included digital home, virtualisation, and laptop and mobile phone repair workshops. The after show party - previously held at the local pub - was brought in-house for the first time with the "Target Arms" hosting a fully stocked bar, buffet food, pub quiz, pool table, Wurlitzer jukebox and comedian.
To view the photo gallery for this event please click here
2010
We extended the training theme with four separate rooms and presentations running throughout the day. Servers Plus had a stand for the first time and were supported by new exhibitors such as HP, Fujitsu and IBM.
To view the photo gallery for this event please click here
2009
Saw the launch of Tech Share and our Flexible Product Feeds. We introduced vendor presentations in the main hall and a separate Microsoft training room.
2008
Our first Open Day to celebrate our 10th birthday. A marquee in the car park, vendor exhibitions, competitions, free drinks in the afternoon, and a free bar down the pub afterwards.