No-one likes a show off. So we're not going there. Instead, here's what others said about the Day:
"As always a brilliant day. Thanks to you and your team for always going above and beyond expectation, providing a truly useful and informative day. Unlike other events where there are constant sales pitches, I don't think there was any form of pushing the whole day!"
Liam Computer Assist
"A great day as ever. Vibrant chatter all day and I had great numbers in my keynotes."
Carl - GfK

"It was my first time attending the Target Open Day, and I felt you and the team did an excellent job! Apart from the incredible insight it gave us, we really enjoyed the social aspect and felt it was worth far more than the time and money invested."
Kirk Saywell - Cymax Computers & Communications
"The best Open Day so far - from the night before to the day after, the best event we've been to."
Phil - Chips Computers
"Good to meet new people and always a pleasure to see existing friends."
Paul Fox - Pro Logic Computers Ltd
"Target's Open Day is the MOST engaging channel event of the year."
Alex - Akasa
"Thank you very much for the event last Friday. It was the first time we've attended and we would love to come back and exhibit every year. "
Louise - Baltic Training
"Thanks again for another great Open Day, I had a lovely time. As always the ShopTalk workshops were brilliant, I found some useful points in Selling Your Business and I am talking to Baltic Training about getting an apprentice - I think I may even upgrade my staff uniform."
Roger - Nortech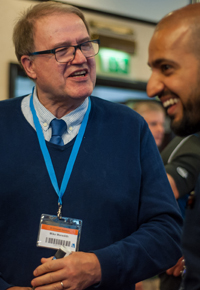 "The event was excellent and a great opportunity to speak to your customers and help explain the importance of using a quality power supply in systems."
Gavin - XFX
"The best one I have attended!"
Jason - Jaycees PCs
"I would like to thank you for a wonderful day at the Target Open Day on Friday, it was really good to meet you and your team as we have been a customer of Target since 2004."
Carl Ng - Experts Computer Services
"We had a fantastic time both at the event and networking with other Target clients."
Tony - PC Clinic
"A big thanks to you and all the staff at Target for a fantastic Open Day, it was well worth taking a day off to attend and won't hesitate in attending next year."
Neil - Cottenham Computer Services
"Cory and Scott are great ambassadors for Target."
Andrzej Bania - Kitguru
"Met some amazing people, made some great new contacts and had a great time over all."
Spencer Blackaller - Boot Up PC