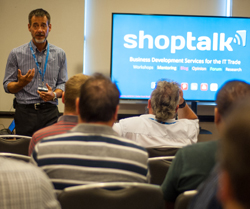 ShopTalk - our in-house customer business development service - is central to the Open Day. Dedicated to helping you grow and win more customers it's a not-for-profit unit we run for your benefit.
This year ShopTalk presented two different sessions around one theme – the psychology behind marketing best practices. Why? How difficult can creating some artwork be? Well, therein lies the issue.
Creating artwork isn't difficult. What is, is creating effective artwork. Creating designs that scythe through the noise and captivate. That has nothing to do with being good at Photoshop. And it certainly has nothing to do with "cool".
Our workshops "Pay Attention" and "Inside Customers' Minds" took a long hard look at this. We got inside how our attention works and why. And we learned how it can be sparked in ways we just can't ignore. We learned what "grabbing attention" really means and how to do it.
To see and download the presentation slides, click the links below. To view the videos, click here and follow the instructions.
Note: The ShopTalk workshops will also be serialised on the blog over the coming weeks. The blogs will include additional in-depth narrative expanding on the videos and giving you more valuable insights. Why not subscribe and get alerts as soon as they're published?